Winter is the best time to plant trees

Here at Complete Tree Care the winter is the time when we undertake the vast majority of our planting –at least 150 large trees and many more shrubs. Planting at this time of year, when the trees are dormant, gives the highest success rates and ensures they get off to a good start the following spring.
If you are thinking of undertaking some tree planting please contact us and our manager or director (qualified to degree level in horticulture) will visit your property to give detailed advice and a fully costed quote at no cost.
We are able to undertake any size of job and by combining orders we are able to buy from our favoured supplier, James Coles Nurseries at commercial rates – representing a very significant saving over cash and carry nurseries or garden centres. We can also offer much larger trees than you would usually obtain from a garden centre, which will provide instant impact to your garden. Typically we purchase 'standard' sized trees which come in a 45 or 60 litre container (plant pot!) and are 2.5-3.5 metres in height!
As part of the planting process we securely stake the trees and apply a protective mulch of composted wood chips to the planting area to retain moisture and suppress weed growth the following spring.
Doing a good job is the best form of advertising
We recently analysed our sales data to establish where we were getting most of our leads; so we could better focus our advertising. I am pleased to say that the statistics showed that most of our clients came to us by way of referral and repeat business – not through advertising!
So in the end the best way to pick up new business is to do a good job. One example was Cairn Avenue, in Ealing where we were asked to undertake tree works for three residents in the space of just one month! Similarly at Strawberry Hill in Twickenham we have been pruned trees for two neighbours this summer.
Oak Processionary Moth in West London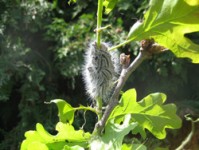 During a recent job to crown reduce an oak tree in Grove Park, Chiswick we found several Oak Processionary Moth (OPM) nests. Complete Tree Care is experienced in dealing with this virulent pest and so were able to remove the nests in accordance with FC Guidelines, then complete the tree works.
We would advise any client in the OPM control area of LBs Hounslow, Brent, Richmond and Hammersmith to inspect their oak trees for the caterpillar and/or its nests since they represent an unpleasant health hazard. The larvae (caterpillars) are covered in irritating hairs that contain a toxin and contact with these hairs, or their inhalation, can result in skin irritation and allergic reactions. If you are unsure of what they look like our manager can come and inspect your tree for you.
Tree Survey at Chiswick House and Grounds
Complete Tree Care recently completed a prestigious contract from LB Hounslow to survey and inspect the trees at Chiswick House and Gardens. Chiswick House is a magnificent neo-Palladian villa in west London and is set in beautiful historic gardens which are currently being restored as part of a £12.1 million project. In fact the gardens are thought to be the birthplace of the English Landscape Movement and the inspiration for New York's Central Park!
With no inventory currently in place Complete Tree Care undertook the considerable task of inspecting more than 3000 individual trees in the gardens and plotting them on OS digital mapping. Larger areas of woodland were also plotted and assessed.
News: Why Choose Us
• Reliable and experienced; we have been trading successfully since 2001
• A quality service at a competitive price from our NPTC qualified staff
• Insured and compliant; we hold £10M of cover and are Local authority approved
• No job too large or small; with more than ten staff we can undertake any size of contract
AA Conference
We are pleased to announce that we will be sponsoring the folders for the forthcoming National Amenity Arboriculture Conference in Warwick on 18th to 20th September 2011. We will of course have an exhibitor's stand at the conference and will be delighted to speak to any current or prospective clients and candidates.
Please contact us for further details and information on the services we provide.
Report on London's Street Trees
'Branching Out the Future of London's Street Trees April 2011′ is a recent report by the London Assembly Environment Committee on the capital's highway trees.
London's Street Trees
The report looks at the effectiveness of the Mayors Street Tree Programme, (it will achieve its traget of 10,000 trees planted by 2012),the changes in street tree numbers by borough across London (a small increase of 1.7%) and makes recommendations as to future arrangements for street trees. The report can be viewed from the LTOA's website: www.ltoa.org.uk
Please contact us for further details and information on the services we provide.
The Arb Show
We will have a trade stand at the Arb Show on 10-11th June 2011 at the Bathurst Estate, Curencester, GL7 6JT. We will be at plot T15, which is one of the small tented pitches opposite the AA stand. Bruce Blackman will be on hand to discuss vacancies we have and if you are looking for a job can register you there and then. For employers we can also take details of any vacancies you may have.
Please contact us for further details and information on the services we provide.
Swedish TCC and Trade Show
For a couple of years we have been supplying staff to a Swedish client in Stockholm. With a view to generating further business Complete Tree Care recently attended the Swedish ISA chapter's climbing competition and trade show. The event was held in Stockholm but was well attended by arborists from all regions of the country.
Please contact us for further details and information on the services we provide.
Complete Tree Care is 10 years old!
Complete Tree Care was established in 2001 and since then has grown to become the leading arboricultural recruitment company. Did you know:
we supply more than 100 staff every year to a range of clients,
we have supplied staff to 28 of london's 33 boroughs,
our international sales exceeded £250k last year,
our lowest fee is just £300 and we offer a refund in the first 3 months.
Please contact us for further details and information on the services we provide.