Oak Processionary Moth in West London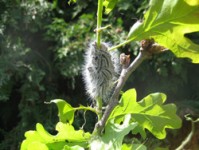 During a recent job to crown reduce an oak tree in Grove Park, Chiswick we found several Oak Processionary Moth (OPM) nests. Complete Tree Care is experienced in dealing with this virulent pest and so were able to remove the nests in accordance with FC Guidelines, then complete the tree works.
We would advise any client in the OPM control area of LBs Hounslow, Brent, Richmond and Hammersmith to inspect their oak trees for the caterpillar and/or its nests since they represent an unpleasant health hazard. The larvae (caterpillars) are covered in irritating hairs that contain a toxin and contact with these hairs, or their inhalation, can result in skin irritation and allergic reactions. If you are unsure of what they look like our manager can come and inspect your tree for you.
« Back to News