Tree Stump Removal
What?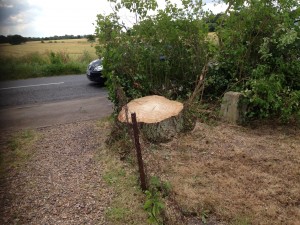 Tree stumps are the part of the tree left after it has been felled and depending on the size of the tree that was cut they can take up a large amount of room on your land.  Tree stumps can also regenerate if the conditions are right. When this happens, small tree sprouts grow from the stump and use the existing root structure for nutrition. If the felled tree was large there may have been a huge amount of nutrients left in the roots and this can cause the shoots to grow very fast this quickly, leading to a very unsightly addition to your garden.
Why?
There are several hazards related to leaving tree stumps in your garden after cutting trees down. For example, the UK's most destructive fungal garden disease Honey fungus (Armillaria) thrives in the rotting wood of dead trees and can cause the deaths of many of the nearby trees and other plants. If Honey Fungus has begun to spread in a garden the only remedy is to excavate all of the infected plants and then either burn them of have them put in a landfill. Another related hazard is that the stumps may become overgrown and act as camouflaged tripping hazards. If you are own a public garden this could lead to customers getting hurt which is bad for business. Perhaps the simplest problem with having tree stumps in your garden are that they take up room and are an eyesore that detracts from the beauty of your garden.
How?
Luckily, there are many methods of tree stump removal that we at Compete Tree Care provide that can be easily tailored to your needs. Smaller stumps can be pulled out using a winch. This is a quick method which means there is minimal disruption to your home or business. After the stump has been pulled out the only thing that remains to be done is to fill the hole and lay turf leaving your garden looking clear and pleasing. Larger stumps can either be dug out by hand or for very large stumps using a mechanical excavator. Another method that we sometimes use is stump grinding. This uses a tool called a stump grinder to remove the portion of the stump that is above ground and therefore does not damage the area around the stump and eliminates the
need to fill in a large hole.
After we have ground down the stump to a sufficient level we can then lay down turf which leaves your ground looking good as new. The final method that we use is chemical removal where we use chemical that breaks helps the dead wood break down faster and decompose on its own. This does minimal damage to the area around the stump, however, it can take a while for the stump to decay completely.
Why choose Complete Tree Care?
Complete tree care has over 15 years of experience providing expert tree services throughout all of London including Richmond, Ealing and Hounslow. We are on call 24/7 for emergency call outs and with over 10 members of staff we can provide fast and responsive tree surgeon services for your home or business. Either call us on 020 8616 9051 or use the contact form on the right to get free advice and an estimate.
« Back to News